Top apps to download and convert video from YouTube
There are lots of tools that can download and convert a YouTube video. But how to select the best one?
By searching for a top free YouTube downloader in a browser, you'll be offered good tools to decide on. All have their pros and cons and differ from one another by a variety of features.
DVDVideoSoft examined the market, combined the essential features, and implemented its unique download algorithm. The developer created several YouTube downloading apps to meet the expectations of the most demanding user. Let's take a look at the downloaders it offers.
1. Free YouTube Downloader
360p to 8K video resolution support
customization of presets
full playlist and channel download
fast and user-friendly
bulk video download
multilingual interface
This is a renowned video downloader that can save any YouTube content on Windows or Mac. The ability to extract high-quality video and audio from YouTube makes it stand out from the rest on the market. The app can grab the original YouTube stream and save it without any modification or quality loss. You can also choose the format that suits you and convert the files into a more suitable format. The built-in player will help you check the quality of your file.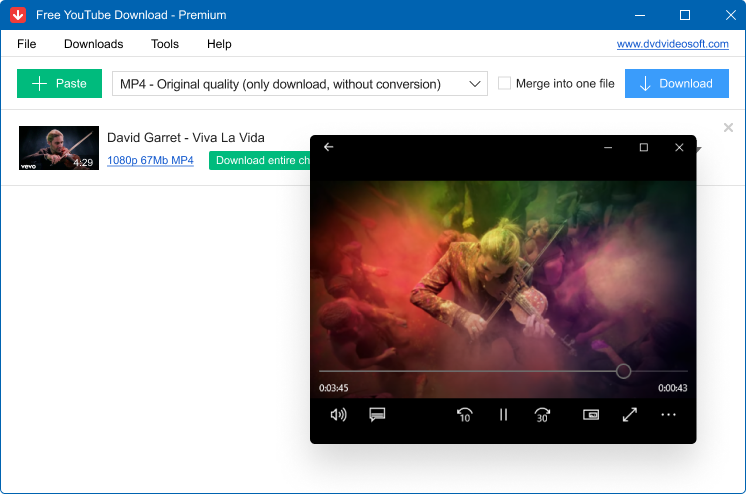 Download URL: https://www.dvdvideosoft.com/pt/products/dvd/Free-YouTube-Download.htm
2. Free YouTube to MP3 Converter
high-quality MP3 audio
saves video artwork
music playlist & album download
converts on the fly
a great choice of audio formats
adds music to iTunes automatically
If you are looking for a way to download YouTube tracks, then this is your app. This YouTube converter will please any music lover. It allows you to add as many YouTube tracks as you wish and press the Download button only once. Downloading huge playlists with over one thousand songs won't last more than twenty minutes. The ability to merge clips into one file helps create unique ongoing playlists.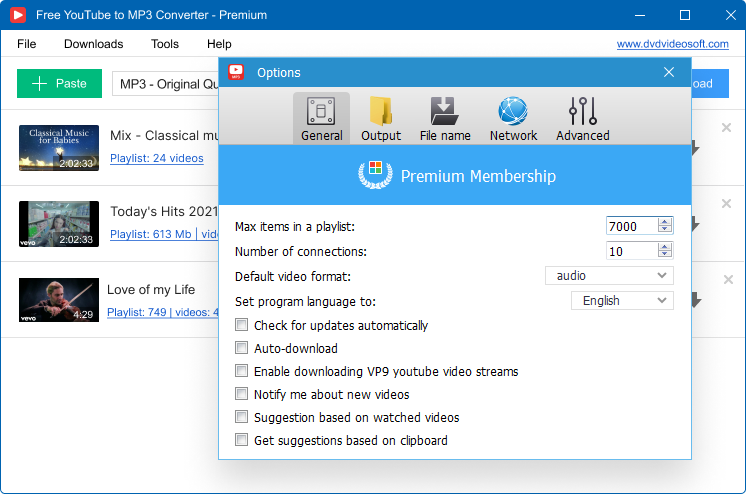 Download URL: https://www.dvdvideosoft.com/pt/products/dvd/Free-YouTube-to-MP3-Converter.htm
3. Free YouTube to MP4 Converter
converts files to MP4 format with ease
all features free
quick download function
supports conversion to MP3 format
high-quality playlist and channel download
converts files directly from YouTube
This easy-to-use tool is irreplaceable if you need to save your favorite YouTube videos in the most common MP4 format. Its advantages you will appreciate immediately. All the app features are available free of charge. You can get not only individual YouTube videos, but also save full playlists and channels. If YouTube stores the selected files in high resolution, download them without quality loss at high speed. Moreover, you have the opportunity to convert music clips to high bitrate MP3 format.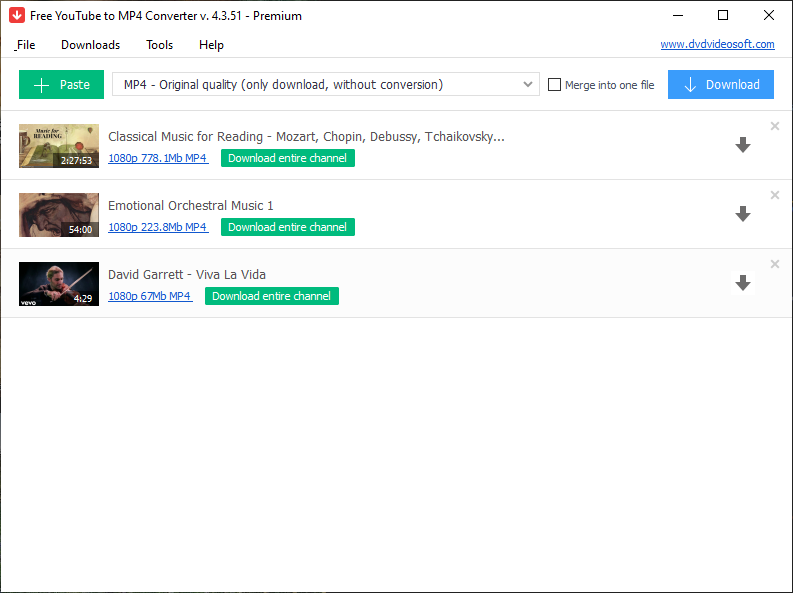 Download URL: https://www.dvdvideosoft.com/pt/youtube-to-mp4-converter
4. Free YouTube Subtitles Downloader
all free
adding timestamps
subtitles download in .txt or .srt format
user-friendly interface
text preview before downloading
extracts subtitles from text or interval
This tool is a great choice for those who prefer to watch videos with subtitles. All you need is to find the video on YouTube with subtitles or closed captions and paste the YouTube URL into the program interface. Here you have an opportunity to choose subtitles in any language available for download. You can easily add timestamps, select a particular interval and preview text with subtitles before downloading the file. The main benefit is that this app is free. It's worth a try, especially if you want to improve your language skills or better understand the plot.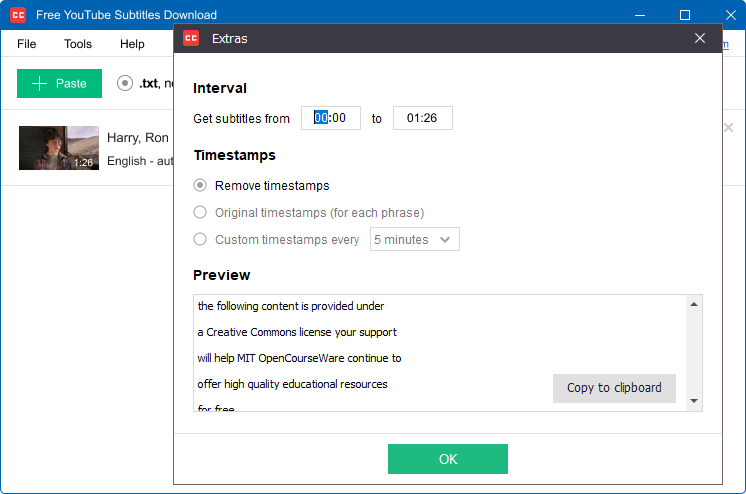 Download URL: https://www.dvdvideosoft.com/pt/free-youtube-subtitles-download
Why might you want to save content from YouTube?
Saving video and music beforehand is helpful. YouTube features a wide variety of content: from educational how-to guides and news to music clips and entertainment shows. Anyone will find something to his or her liking. Besides, online content usually lags. The load speed depends a lot on the user's internet speed and storage capacity. That's why it's very convenient to have favorite tracks or videos at hand offline to reach them whenever you want. Anyway, remember that downloading protected and copyrighted content isn't allowed. You can save videos and music for personal use only.
Esta informação foi útil?