Why select a desktop Free YouTube Download over an online app?
You may be wondering 'Is there any difference between desktop and online YouTube downloaders?' and 'What YouTube downloader is the best to choose?'. Let's go deeper and compare a desktop application Free YouTube Download and online YouTube download apps according to several parameters:
user interface
compatibility
variety of features
download quality
Let's start with the definitions.
A desktop app is a program that is downloaded and installed on the user's device. All the program data is stored on the computer. You can access the app offline and need to tap on the program icon to launch it.
An online application is a web-based app. You don't install it but run it from your browser and can access it online only. All program functions are delivered from a remote server.
Desktop app vs online app: a comparative analysis
User interface
Most online YouTube downloaders are free to use, that is why there are a lot of ads and redirects on their websites. This usually makes a user at a loss: where to click not to install or pay for anything. This is a huge drawback that pushes users to give preference to a desktop app.
There are people who claim that installing a product isn't quite safe either. And this is not without a reason: there are programs that force users to install third-party apps and extensions and one needs to be careful to bypass this.
Free YouTube Download doesn't offer anything of this kind. Besides, it has a clear and user-friendly interface. You don't need to be a computer guru to handle it: all buttons and menus are understandable. There are no third-party pop-ups or redirects neither during the installation nor during its use. It just looks as on the screenshot below.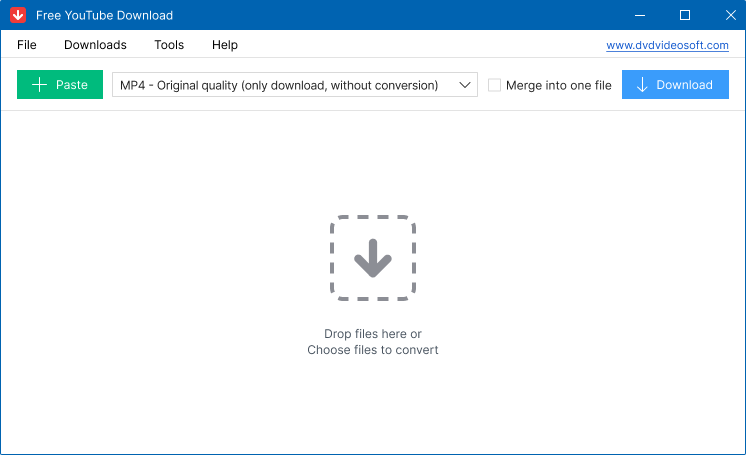 Compatibility
You don't need to have the newest hardware to run the online downloader. It relies on browsers only and can work on any device, whether Windows, Mac, Android, or iOS. The internet connection is crucial here: the web-based app's work depends on the internet speed and its stability. You won't have a good user experience if your internet connection leaves much to be desired.
The work of a desktop program is often limited by the operating system and you need to install upgrades from time to time because of system or YouTube updates. But there is a benefit: installed apps are easier to access. You just need to tap on the program icon to launch it. And it is more likely that you'll revert to it from time to time if you see the icon on your desktop.
We couldn't find a YouTube downloader that would run on all operating systems. Thus, you need to search for the one that'll work on your device. For example, DVDVideoSoft developed two application versions: for Windows and Mac OS. Although the interface is slightly different, the program workflow is the same. Developers have their fingers on the pulse of what's going on and update program signatures if there are any changes so you could download your favorite tunes without interruptions.
Variety of features
This is a battle where desktop apps totally win. Online YouTube downloaders save single links and only a few of them support playlist download. All they offer is a list of formats you can select for download.
The variety of features a desktop downloader offers is much bigger. Here is what the DVDVideoSoft app offers its users:
Full playlist and channel download
Auto-download
Skip downloading if the file already exists
Save output to new iTunes playlist
Download with proxy server
The video title set up and whatnot.
All these you can customize as you use the software according to your needs.
One more thing we would like to mention. Free YouTube Download shows 2 menus. From one of them you can select a YouTube stream for download, from the other one you set the desired file format. Thus, you can not only download the original YouTube stream but convert a YouTube video to the format supported on your device.
Download quality
Most YouTube downloaders detect video streams recorded in HD or lower resolution standards. The video quality is almost the same. That is why we decided to check how different apps cope with videos recorded in Full Ultra HD, a relatively new stream.
The YouTube link we tested: https://www.youtube.com/watch?v=linlz7-Pnvw
The apps we selected for the analysis:
Free YouTube Download - a desktop application developed by DVDVideoSoft
Four different online YouTube downloaders, most viewed on the net.
Free YouTube Download can download videos in up to 8K quality and in a variety of formats. It took the app 12 minutes to download the 8K video from the link above. Only one online video downloader saved the 8K film. But it took 25 minutes to download the file. All the rest either reported the error or didn't offer Ultra Full HD stream at all.
Conclusion
Desktop downloader vs online YouTube downloader isn't an easy choice. Each has its pros and cons. It's up to you to decide whether to use a web-based or a desktop app. Consider what you need: to download a YouTube video or tune just once or use the YouTube downloader on a regular basis. If you got used to watching YouTube content in offline mode, and download new music or videos from time to time then a desktop YouTube downloader is your choice. And we highly recommend you Free YouTube Download.