How do I download 2160p Ultra HD videos from YouTube?
As you may know, 3840 × 2160 (4K ultra-high-definition) is the dominant 4K standard in television and consumer media. However, high-resolution videos take a long time to load, and the Internet connection does not always allow you to watch such videos without pauses.
YouTube contains various videos in 2160p Ultra HD quality but it may take time to completely load the chosen video. If you prefer to watch a 4K video in one go without waiting for the video to fully load, it's better to download and save it to your PC for later playback.
The question is, which YouTube downloader is capable of downloading videos in 2160p Ultra HD resolution? Try Free YouTube Download developed by DVDVideoSoft. Read the short guide on how to download 4K YouTube videos in several steps:
Go to YouTube and type '4K' in its search box. The website will offer you content available in ultra-high definition.
In a chosen YouTube video click on Settings - Quality and check if there's 4K or 2160p60 quality available.
Download and install Free YouTube Download to your PC or Mac.
Copy the link from YouTube and paste it into the program.
First of all, click on the drop-down menu next to the 'Paste' button and choose 'MP4 - Original quality (only download, without conversion)'
For the output format select 2160p:

Click on the blue link under the file's title. You will see the list of available formats for the YouTube video.
Pick 2160p from the drop-down list.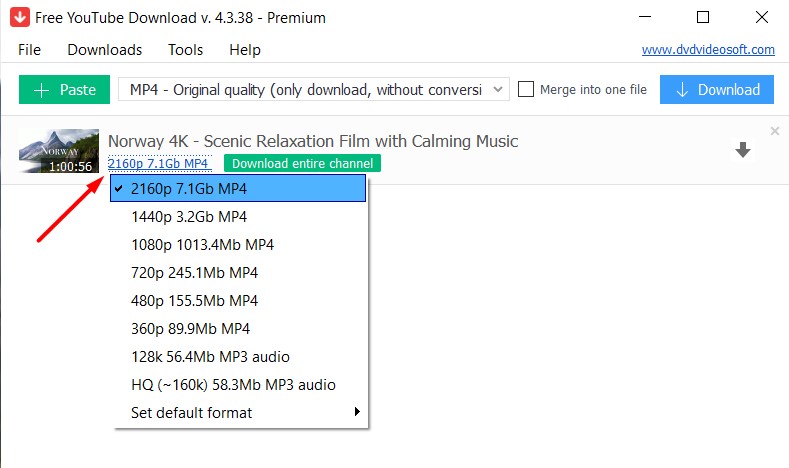 This is so easy to save amazing high-quality videos to your PC. Create your own collection of 4K Ultra HD videos and enjoy watching them without rushing.