How can I download YouTube videos without losing quality?
Downloading a video in its original YouTube quality is what you need if you want to save a video without losing quality.
By checking the gear icon on the bottom right corner of any video on YouTube you'll see all video resolutions YouTube has to offer. Where does it take them from? YouTube saves the highest quality a person uploads with YouTube Studio and then creates versions with lower resolution all the way down. Thus, allowing us to view its video content even if the internet connection leaves much to be desired.
Selecting the highest available resolution for download gives the best possible video quality. Free YouTube Download makes it as simple as possible: the app recognizes all resolutions YouTube offers to view. All you have to do is copy a YouTube URL, add it to the user interface for download and pick the appropriate resolution as it is shown in the screenshot below. The value will usually vary from 360p to 1080p and 2160p for content in Ultra HD.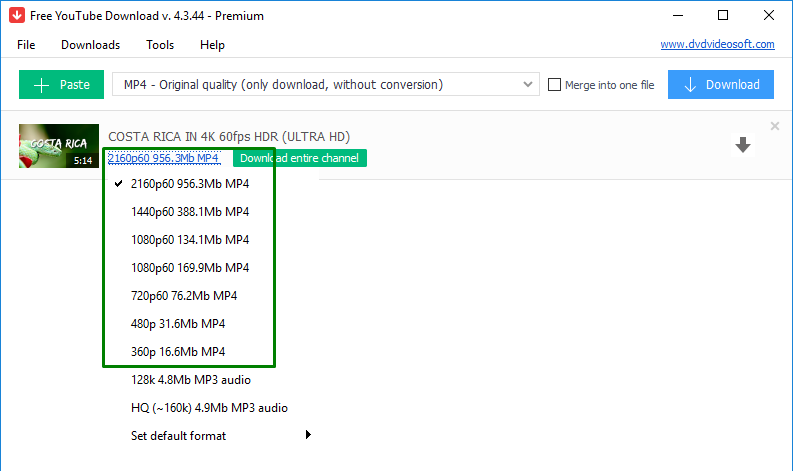 The program will automatically detect the highest resolution for each URL you paste if you set '4320p 8K' in Tools - Options - General - Default video format.
'MP4 - Original quality (without conversion)' is automatically selected from the output format menu on top. Leave it like this or change to MOV, AVI, or MP3. The choice of format may depend on the variety of formats your media player supports. MP4 is perhaps the most common video file format available. That is why it is selected in the program by default.
The DVDVideoSoft YouTube video downloader is a reliable tool and it is trusted by millions of users. You'll always get a picture as sharp and sound as pure as on YouTube with this app.